By Cheryl Peebles
Most teachers are enjoying a well-earned break from the classroom over the Christmas holidays. But not Kenneth Munnoch, of Dunfermline, who is continuing to educate children in Malawi over the festive period.
Kenneth, 56, is on a placement with Voluntary Services Overseas.
Instead of sitting down to a turkey dinner on Christmas Day, he was helping to bring lessons to schools across Mangochi District.
Kenneth and wife Camilla have had a long love affair with Africa, and met while doing VSO placements in Nigeria in 1989.
Now their twin sons have grown up they have rekindled their wanderlust, this time with a focus on Malawi, a country which has strong links with Scotland.
Kenneth, a former design and technology teacher at Dunfermline High School, is using his skills to help teachers in Malawi deliver lessons using iPads.
The Unlocking Talent project uses tablets to help children in rural communities get back into school and flourish.
His role is to ensure teachers can use the technology to its best advantage.
Every day Kenneth climbs onto his motorbike and travels to schools near scenic Lake Malawi to work in solar powered learning centres where the tablets are kept.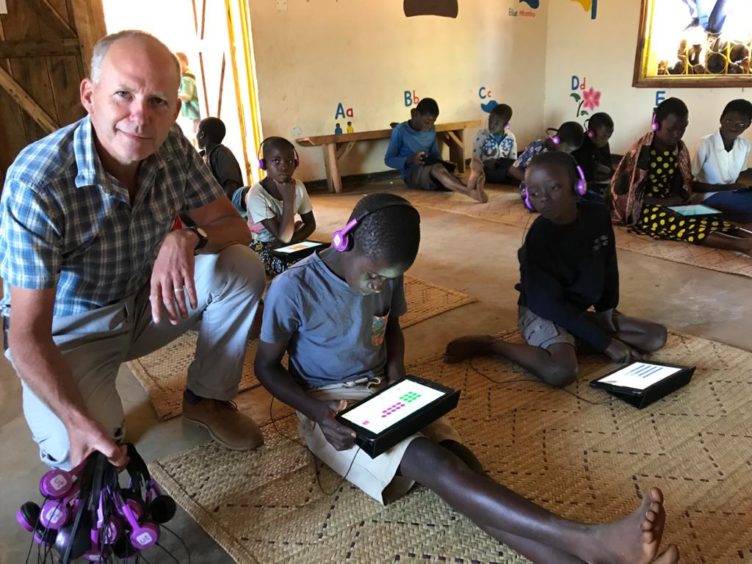 He said: "All the schools I visit are up in the mountains so getting there means leaving the Rift Valley and driving up a winding road with stunning views over the plains, the lake and the Shire river."
In Malawi there are 74 pupils for every teacher and only 35% of children complete primary school.
Many youngsters have never seen a tablet, let one used one, but Kenneth said they were quick learners.
He said: "Children are so similar in lots of ways.
"The class sizes here are enormous but the children learn to use the masamu [maths] and Chichewa [the local language] apps so quickly.
"It's not a case of having to encourage them – just get them started and they are off."
The Unlocked Talent project has reached 150,000 learners in Malawi.
In May it won £12million Global Learning XPrize funded by Elon Musk.
Original post : The Courier