Mafco FC have returned to the TNM Super League after winning the Chipiku Central Region Football Association League Premier League title.
The Malawi Defence Force (MDF) outfit, relegated last season, beat Jidi FC 2-0 yesterday to attain an unassailable 99 points with two games in hand.
The victory over Jidi followed a 7-1 thrashing of Mbavi United on Saturday.
Martin Masoatheka inspired Mafco's victory on Saturday, netting four goals while the other goals came from Emmanuel Chipeta, Stain Malata and Vitumbiko Phiri.
Steven Zongololo scored the consolation goal for Mbavi.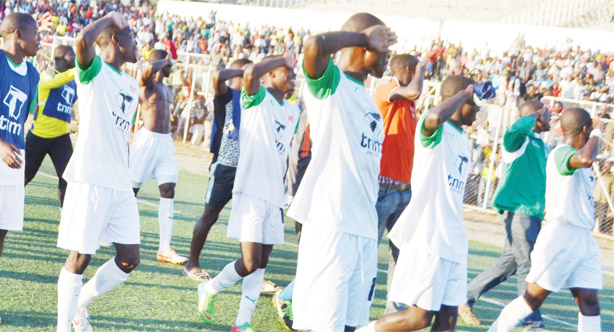 Yesterday, they completed the mission with goals from Martin Masoatheka and Paul Ndhlovu.
Mafco assistant coach Yohane Fulaye, who took charge of the two weekend games as the head coach Stereo Gondwe is with the national beach soccer team in Tanzania, said it was not easy.
"It was tough. We have learnt a lot in the Chipiku League and we will use this experience of hard work to remain in the TNM Super League," he said.
In the Northern Region Football Association (NRFA) Simama and Sons (Simso) Premier League Ekwendeni Hammers have won the 2019 Premier League title.
They are leading the 18-team league with 69 points from 30 games, an accumulation that cannot be surpassed by any other team.
Second-placed Baka City have 61 points from 30 games and they have two games as well to wind up the league while Rumphi United on third position also have 61 points from 30 games as well, but have an inferior goal difference.
Ekwendeni Hammers team manager Benjamin Thole hailed the players for the fight that enabled them to lift the title and earn promotion to the TNM Super League.
"We are now done with our campaign. We thank God for the success and players for the gallant fight. It was not an easy task to achieve this. Our focus now will be preparations for the 2020 Super League," he said.
NRFA chairperson Lameck Khonje commended teams for a successful season, observing that no violence was reported during the league matches.
"We wish Ekwendeni Hammers well in the TNM Super League," he said.
Another MDF sponsored side Red Lions also returned to the top-flight league after winning the ThumbsUp Southern Region Premier League.